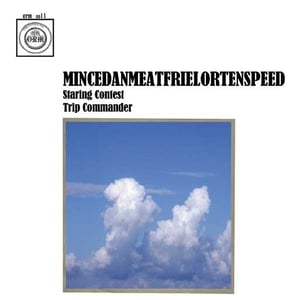 $

5.00
Collaboration with Dan Friel from Parts and Labor, on blue vinyl limited to 300 copies.
Track Listing:
1. Staring Contest
2. Trip Commander
Although we've never reviewed anything by Mincemeat Or Tenspeed, some aQ folks have been fans for a while, in fact he played a while back at a secret brunch show in a cave right by the water. We have no idea who Dan Friel is, but this is some sort of collaboration, hence the tongue twisty moniker.
Not sure what we were expecting but it sure wasn't this, the A side starts out all awesomely gristly rhythmic buzz, wrapped in distorted keening melodies, sounding a bit like Amps For Christ or Bastard Noise, all sorts of warped squiggles, and stuttery glitched out rhythms, surprisingly melodic, almost poppy in its own way, like some fractured blast of rhythmic soft noise bliss out.
And if the A side is -almost- poppy, then the B side is full on pop, sounding a bit like some super catchy chunk of indie rock, rendered in glitched out analog buzz, a looped sort of hooky lo-fi electro that is just about the catchiest shit we've heard in ages. Awesome.
Limited too, and pressed on swank milky blue vinyl!
-From Aquarius Records