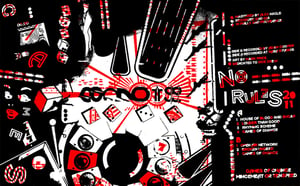 $

5.00
After Strange Gods when faith in strategy was absent, and the only game played was dice.
Track Listing:
1. House of Blood and Sugar
2. Louder Than Good
3. Rhyming Scheme
4. Games of Chance
5. Open Air Network
6. Broken Undead
7. Games of Chance
Pro duplication, with silkscreened covers by Mark Price.
150 copies.
52:00 running time
some press/reviews so far
"His latest cassette Games Of Chance is one of our favorite noise releases this year. Presented with beautiful screened art and featuring seven tracks of pounding rage-dance, this is the sort of tape that inspires feverish rioting and astral trances."
-Daniel Jones from electronic beats.net
"This project's always been on a pretty fun "not new age, not synth pop, not techno" melodic-noise trip, but this iteration RIPS"
-Vice Magazine
Games of Chance is one of the best tapes I've heard in a busy year.
-Gumshoe Grove